BeerMAX, a new approach to low-alcohol, high-quality beer
The MMS BeerMAX is a standardized membrane filtration system that plugs right into your existing equipment. It removes alcohol from fully fermented beverages by means of a gentle, cold process that preserves the original aroma, flavour, and body.
The BeerMAX has a capacity of 50 - 100 hl/day, making it ideal for small and medium-sized breweries and can be rented for testing and evaluation. Read more...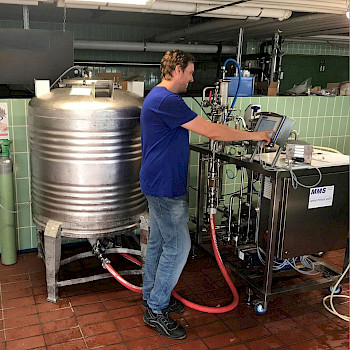 17. April 2020

MMS Membrane Screening Laboratory
MMS develop, screen and optimize membrane process in our dedicated laboratory in Zurich.
Three Triplesystems, two SW18 and several smaller units are at your disposal to explore the possibilities of membrane technology to concentrate, fractionate or purify your product.
Contact our Process Development engineer Peter Desmond for more information.