Process Development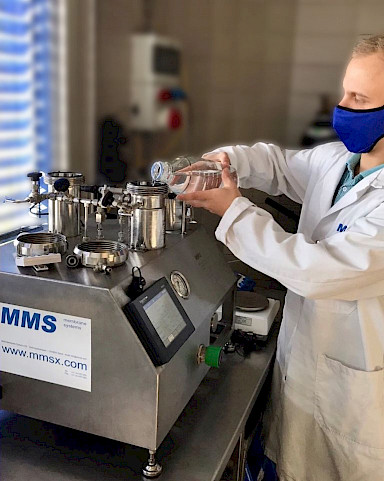 Innovation Made Easy - "from Sample to Process"
MMS specialises in development of membrane processes for dairy, food & beverages, biotech, chemical and water applications. Our goal is to allow customers to establish the solution, feasibility, costs, speed of realisation, and consequences of a novel process.
We offer a 3-step development process to evaluate a new concept. In step 1, we test different solutions and screen different membrane types on lab- scale on a sample from the customer. Test results are documented in a comprehensive report.
If the report is promising, the 2nd step is to scale up the screening results to pilot testing of the process in Zurich or on the customer's site. The purpose is to validate the process, membrane performance and product quality.
After a successful piloting period, step 3 is small-scale production to obtain all necessary data and information to give the customer a solid rationale before deciding on investment in an industrial-scale system.
Over the last 25 years we have built a comprehensive membrane laboratory, where we are able to screen and test hundreds of membranes in order to select the most appropriate type and module for your application and product.
We also offer a wide range of lab units and pilot systems for rental or purchase, which can be equipped with different membrane types:
Flat sheet
Hollow fibre
Ceramic


Lab Units, Pilots, and Industrial Membrane Systems for any need.
Contact us for more information on what MMS can offer.